Microsoft Network: Two projects to support the community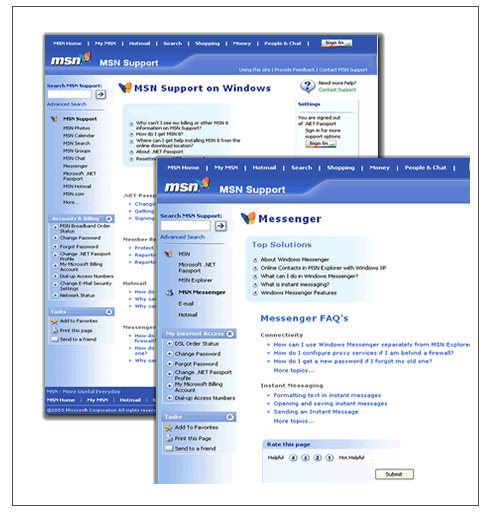 MSN Support
Support.msn.com was a new site that supported a new kind of product - MSN 8. I helped write the original functionality spec for the site in October, 2001. At the beginning of the project I was the content manager and information designer, leading a team of ten; later I was User Interface program manager and upon the launch of the site I was promoted to site manager and kept that title through 2004.

Project: MSN Support Desk (http://support.msn.com)
Challenge: Create an online support solution for users of MSN 8, Microsoft's first unified online experience that was offered for a fee. While I was site manager, the site had an average of 39,414 daily users.
Skills Used: Program Management, Usability, Presentation Skills, User Interface Design Consultation, Data Analysis.
I was not the visual designer on this project.

Unifying Help Across MSN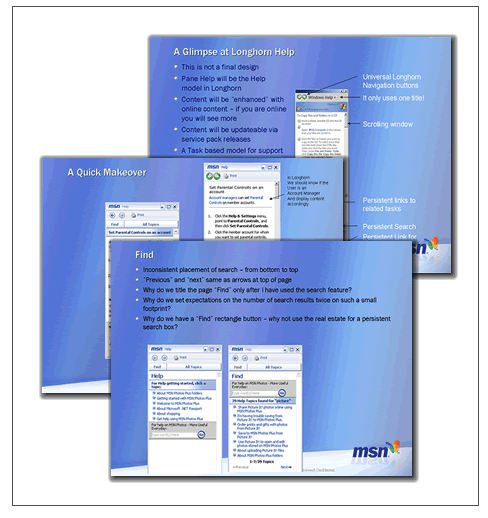 In the spring of 2003 I was working with the MSN core product team as site manager of Support.MSN.com, coordinating with content business managers, writers, editors, production personnel and other internal partners to create useful help and support content for the MSN 9 user and measure its success. I wrote feature specifications that enhanced the usefulness of Pane Help and promoted features and built consensus on implementation across twenty-three MSN products by creating feature specs and presentations and documenting workflows with Visio. I created user surveys to gather success metrics on workflows and individual content topics.

Project: MSN Help Content
Challenge: Below is an example of one of my reviews of the Pane Help UI. The challenge was to improve success by streamlining the search experience and creating more consistent design.
Skills Used: Program Management, Usability, Presentation Skills, User Interface Design Consultation, Data Analysis