Global Funds: Making Second Life currency international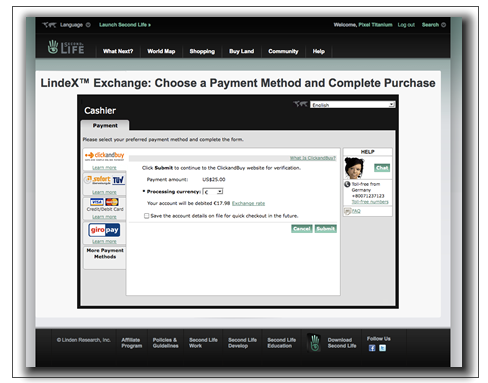 The Second life currency "the Linden" can be cashed out into US Dollars. This enables content creators to support themselves with full time jobs in Second Life. Although the majority of Second Life Users are not based in the United States, before this International Billing project, users were only able to purchase Lindens (the second Life currency) in US Dollars. After this project Second Life supported over 50 languages and over 30 currencies.
A report from comScore estimates that 61% of active Second Life residents are European. As reported by Reuters, Germany alone has (slightly) more active SL users than the United States.

♦ Germany 209,000 (16.3%)
♦ United States 207,000 (16.1%)
♦ France 104,000 (8.1%)
♦ Britain 72,000 (5.6%)

International Billing was a huge project for Linden Lab, involving a close integration with a global billing partner, the management of multiple payment methods and a process for a rapid response to fraud.
I defined the user flows, created the wire frames for all pages involved, and acted as a subject matter expert for Marketplace transactions.
Skills Used:
Information Architecture, Interaction Design
Example Document:
PDF of the wire frames for International Billing project
Example Document:
PDF of the user flows for International Billing wire frame document
Below:
The wire frame document (see link above) includes 51 pages. Below is the wire frame for the payment management experience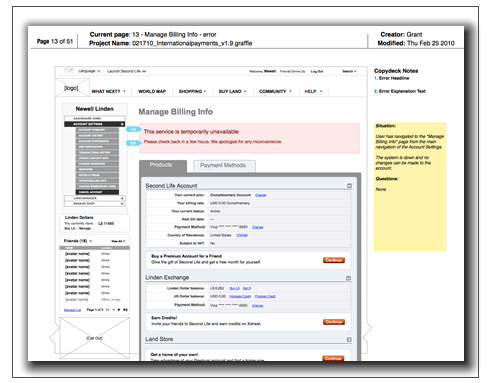 Below:
An image of the final payment management experience
Below:
Wire frame of the International Billing cashier interface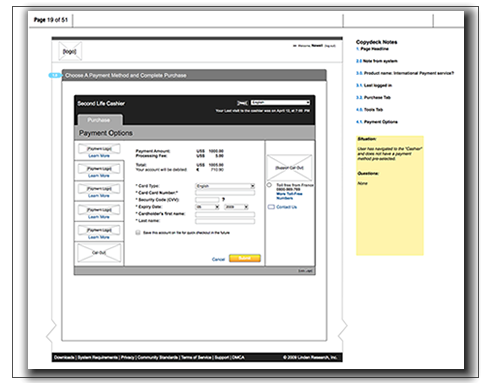 Below:
An image of the final cashier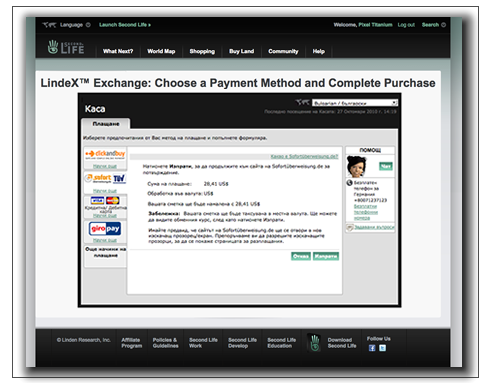 Below:
The user flow document (see link above) includes 10 flows and many edge cases. Below is the user flow for purchasing Linden Dollars in the Second Life viewer