MyPoints: MyPoints members shop the hundreds of retailers in the MyPoints network and earn Points from each transaction they make.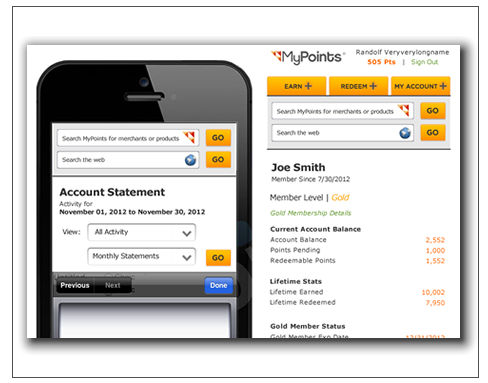 MyPoints' growing base of over 9 million members generates close to half a billion dollars in Internet retail transactions through it's Rewards Program.

I collaborate with the vice president of marketing and the engineering team to improve the MyPoints Member experience.

My primary deliverables are high definition comps that are presented via PowerPoint presentations or clickable prototypes.

I am involved in reducing friction accross the entire MyPoints product network, but the majority of my efforts have been focused on:

♦Sharing offers via Facebook and email
♦Linking Facebook and MyPoints
♦The MyPoints Mobile Site Refresh


Project: MyPoints Viral Sharing
Challenge: Increasing user engagment and Member growth by refining viral sharing tools. Members can earn Points by sharing deals that result in purchases by thier social network.
Skills Used: Interaction design and Visual Design

Below are some sample screens from this project.

Below:Value proposition page. MyPoints rewards members for sharing deals and for growing their refer-a-friend network. Members can earn points when their friends shop.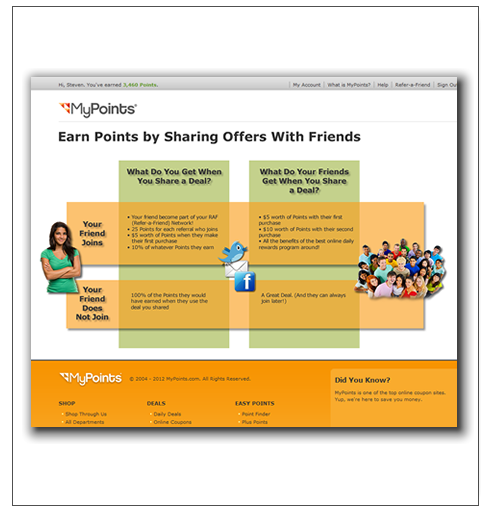 Below: The user hovers over the deal and sees the various sharing choices.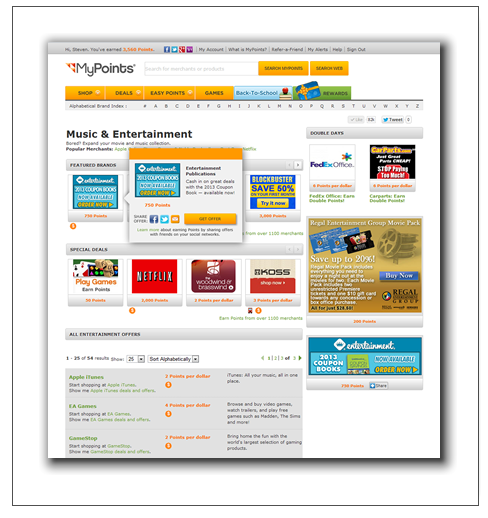 Below: I designed the email share UI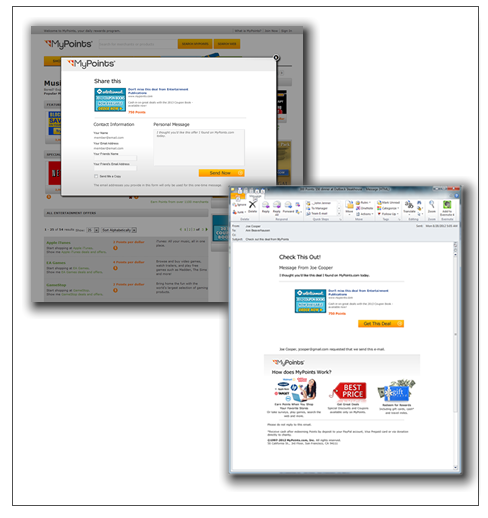 Below: The Member can post the deal to their Facebook wall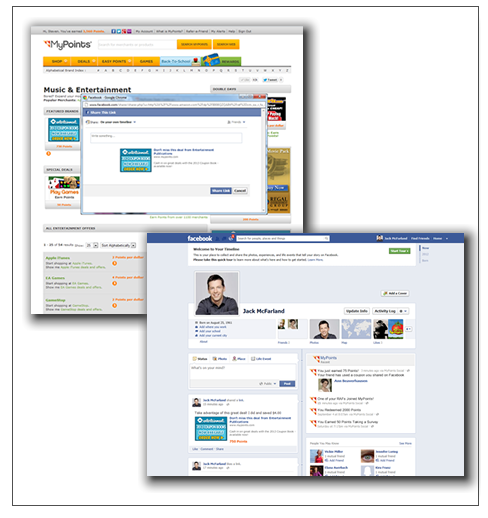 Below: When a user clicks on the shared deal they see the option to go to the deal directly or to learn more about the MyPoints Program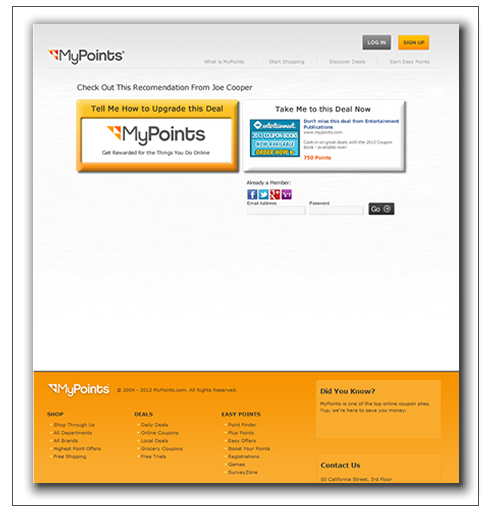 Below: The message folds down to reveal more deatails about how MyPoints works and invites the user to join.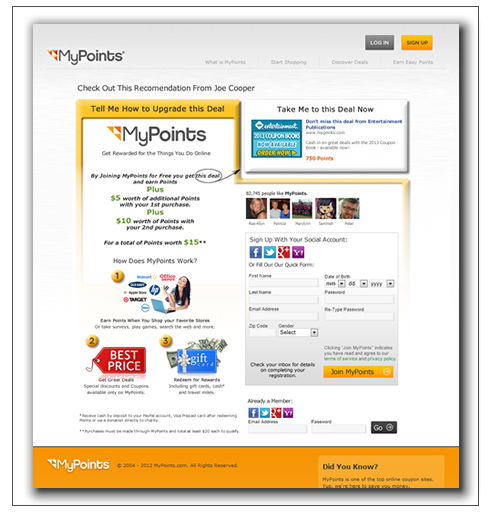 Project: Linking Facebook and MyPoints - Incentives to Join the Program On Facebook
Challenge: Increasing Member growth by rewarding Facebook Members to join MyPoints without leaving the Facebook environment.
Skills Used: Interaction design and Visual Design


Below: Here are a few pages from this project. This is not a complete flow, but just a few pages to provide a feel for the kind of project this was.




Project: MyPoints Mobile Site Refresh
Challenge: As the MyPoints mobile expericence was moved from an external host and engineering resource we found and opportuinty to make improvements to the UI, making the site more "mobile friendly".
Skills Used: Interaction design and Visual Design


Below: A few highlights from this effort. Every page of the site was in scope, but a few pages are shown here to provide an indication of the type of pages we focused on.